WESTERN MINERALS HIGH-GRADE GYPSUM PRODUCTS
---
AGRICULTURE / TURF:
Ag-Pro™ - Milled, Solution Grade Gypsum (50#, 2000#, Bulk)
Ag-Pro™ - Milled, mixed Ag, Retail & Industrial Use (40#, 50#, 2000#, Bulk)
Broadcast, Pit run Gypsum 3/8" minus (Bulk only)
Sports Field Marking Gypsum (50# Bags)
ANIMAL FEED:
Feed Grade – Calcium Sulfate Dihydrate for Animal Feed Products (50#, 2000#, Bulk)
SPECIALTY:
Industrial Terra Alba – 98%+ Pure Calcium Sulfate Dihydrate
Filler Grade Calcium Sulfate Products
PORTLAND CEMENT (P.C.) GYPSUM:
Crushed High-Grade Gypsum for use in the manufacture of White & Grey Cement
---
ADDITIONAL PRODUCT INFO
AGRICULTURE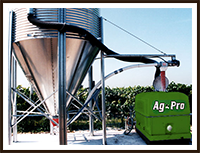 Gypsum for use in amending soil and water to improve chemistry for greater crop yields and more efficient water use. High-Purity standard, field spread product and Ag-Pro™ Solution Grade Gypsum for direct injection into irrigation water. Click here for more info...
GOLF/TURF

Gypsum for amending soil and water to improve chemisrty for healthier turf. Helps build strong roots for more resilience, allowing play to resume faster after heavy rain or irrigation. Improved soil structure also helps prevent ponding and bare spots due to infiltration problems.
SPORTS FIELD MARKING

All-natural, bright white Gypsum isused for marking lines on Baseball Diamonds, Soccer, Football and other athletic fields. Gypsum won't sting eyes or damage turf the way traditional Lime products will.
Click here for more info...
FEED ADDITIVE

High-Grade Calcium Sulfate Dihydrate (Gypsum) for use as a dietary supplement in professionally formulated Animal Feed Products. Available to OEM blenders in kraft bags or bulk.